Richard Robinson, DDS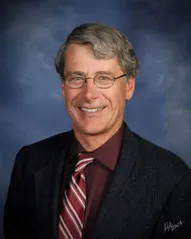 Richard N. Robinson DDS grew up in Santa Cruz, graduated from Harbor High, received a B.S. degree in Biochemistry from UCLA, and received his DDS from USC.
Dr. Robinson joined the Santa Cruz Dental Group in 1991, and has been serving children and adults in the community ever since. He provides a full range of preventative and restorative services including ceramic crowns, cosmetic whitening and veneers (lumineers), as well as teeth straightening with Invisalign.
Dr. Robinson is a member of the American Dental Association, California Dental Association, Monterey Bay Dental Society, the Academy of Sports Dentistry, and International Health Emissaries. He is also a Delta Dental consultant.
He has provided free dental care to underprivileged areas in Guatemala, Peru, Ecuador, Mexico, Belize, Cambodia and El Salvador. He has also volunteered his services locally through CDA Cares and Dientes, where he is a former board member.
In his spare time, Dr. Robinson enjoys running, cycling, hiking, and playing his saxophone and clarinet. He is (or has been) active in the Santa Cruz Track Club, Santa Cruz Triathlon Association, Santa Cruz Jazz Society, Boy Scouts of America, and Trinity Presbyterian Church.
---
Max Wilson, DDS
Max Wilson, DDS, grew up 30 minutes south of Sacramento on grape vineyards consisting of Tokay and Zinfandel grapes. He went to the University of the Pacific in Stockton then continued on to the Pacific Dental School in San Francisco. The people and weather have been so enjoyable on the coast he just couldn't bring himself to go back to the scorching sun in the central valley. He has been practicing in Santa Cruz since 2006.
Growing up as a hard working country boy taught Dr. Wilson the hard work and simple values that help him build close relationships with patients. Dr. Wilson has a great respect for the patient and tries to make every visit comfortable. He puts a high value on treating each person with the respect and time necessary to get your smile just the way you want it. He loves to answer questions and talk dentistry so call or email anytime.
In between the great times he spends with patients he can be seen enjoying the great outdoors. Some of his favorite activities include beach volleyball, rock climbing, mountain biking, triathlons, surfing at Cowell's and taking his dog to the beach for some fun in the sun. You may also find him on the links or playing basketball.
Dr Max Wilson is a certified Zoom Whitening & Invisalign dentist.
---
Kevin Reuter, DDS
Kevin Reuter, DDS has been a lifelong resident of the bay area. He was born in Mountain View, CA and grew up in San Jose, CA where he attended Lynbrook High School and was a multi-athlete scholar. He then went on to earn a Bachelor's of Science degree in Human Biology at the University of California, Santa Cruz where he graduated Cum Laude and was elected to the Phi Beta Kappa National honor society. While in school, he had the privilege of interning at Santa Cruz Dental Group under Dr. Jonathon Wagner and also helped fellow classmates as president of the Pre-Dental Society at UCSC. His dental degree was earned in San Francisco, CA at the University of the Pacific where he graduated with honors and was elected into the Tau Kappa Omega honor society in which members are elected on the basis of ideals, scholarship and character. He is an active member of the Monterey Bay Dental Society, California Dental Association, and American Dental Association.
Compassion and integrity define Dr. Reuter's work and ethos on dentistry. He strives to provide excellent patient-centered care that meets each individual's needs while also taking the time to educate patients on their oral health. His goal in dentistry is to empower individuals to care for their teeth and to smile freely.
When not in the office, Dr. Reuter enjoys supporting his favorite bay area sports teams, camping, live music, traveling, spending time with his family, and exercising to balance out his new passion of being a "foodie."